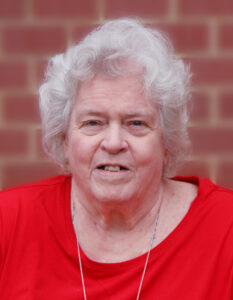 Entered Life: June 3, 1943
Entered Religious Life: September 15, 1965
Entered Eternal Life: July 21, 2023
"Each for the other. Both for God. Abide in my love."
Celebration of Life Service
Watch Previously Livestreamed Service from 7/26: Watch Here
Funeral Liturgy:  Wednesday July 26, 2023
Sr. Ellen Enright, IBVM, was born Ellen Marie Enright, June 3, 1943, in Buffalo, New York to parents, Dr. John Enright and Marie (Sullivan) Enright. She was predeceased in death by her parents, and by her sister, Jeanne Militello. She is survived by her sister, Mary Clare Wallace, Brother-in-laws Joseph Militello and James Wallace, nieces, nephews, grandnieces, and grandnephews.
Ellen joined the Institute of the Blessed Virgin Mary (IBVM/Loretto) Sisters in 1965, taking the name Marie John in honor of her parents. Equipped with an excellent mind, a deep and abiding faith, and heart huge enough to take in the world, Ellen had many ministries: high school and college teacher (North Tonawanda, NY, Wheaton, IL, Sault Ste. Marie, MI) director of parish religious education (Sault Ste. Marie, MI), pastoral care/spiritual director (Sault Ste. Marie, MI, Menominee, MI, Houghton, MI Chassell, MI and Northlake, IL) and Regional Superior (Wheaton, IL for the U.S. Region).
Memorials may also be mailed to IBVM Development Office, Box 508, Wheaton, IL 60187.
---
Funeral Reflection by Barbara Nelson, IBVM
July 26, 2023
Readings: Isaiah 61:1-3; Ephesians 3:14-21; John 15:9-17
"In our grief, in our sudden sorrow, we come together to celebrate our belief that Ellen is with our God now, and we now celebrate her life with what she gave us to remember her with: prayer shawls – this one she was working on, but mostly especially the Word of God she chose for us to hear this day that came all too soon.
Whether or not she knew it would be THIS soon, she knew that we needed these passages from Isaiah, Paul and John's Gospel to help us move on.
For Ellen it is a release from bodily infirmity, that shoulder and arm never worked quite right after that fall. It is a celebration for her to be reunited with her parents and sister, Jean, and sisters of the Institute, including her great aunt Mother Othelia and friends gone before her.
For us, we can mourn in our grief – not being able to say a final good bye. But THIS is our final farewell to her, for the times she gave us the oil of gladness, a beautiful garland and a mantle (crocheted, of course) in place of mourning, sorrow and a faint spirit. She is that seedling planted on earth 80 years ago grown into a mighty oak working for justice, talking about justice still, but from a different perspective now.
She is now abiding fully in God's love as Jesus shared before the Last Supper, really living in love, not just turning it on one day and off the next; that's not Ellen; but so totally immersed in love that shows God's love must be totally shared with everyone.
And Ellen's final prayer for us is that we, too, be rooted in love, realizing that Christ dwells deep down in each of us; rooted in love; now here's the math teacher in her, in the breadth, length, height and depth of God's love that now she knows so fully.
We might want to converse with her – 'Why did you have to go so soon?'  Even so, she knew she had many more prayer shawls and blankets to make. By the way, there was not a meeting we did not see a skein or ball of yarn and a crochet hook in her hand, even when she was chairing the meeting!
'Why did you have to go so soon?' These Scripture readings she chose, tell us why- she would say, 'LOVE of course – pure and simple, God was calling me in a new way to LOVE.'
Yes, Ellen took us on a journey of love for 80 years. She was the voice of love over the phone – she was the Facebook of love – she was the face of love for many –– including that one final daily facetime call with her sister Mary Clare the night before she died. 
May we follow her example and be the face, the voice, of LOVE for others now."