Our IBVM Friend Spotlight for this issue acknowledges with great gratitude the lifetime contributions of Grace Creighton to the IBVM Sisters, to their ministries and to all who ever asked for help.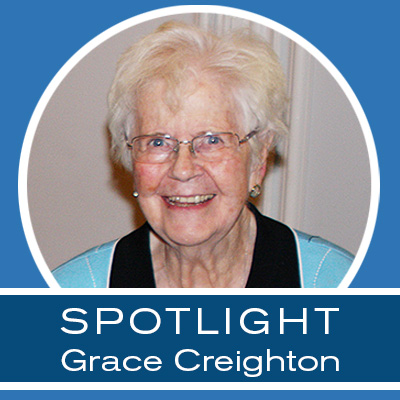 As a child, Grace heard about the Loretto Sisters from her dad, the doctor for several of the sisters. As a teen, she attended Loretto Academy, Woodlawn and was delighted by excellent teachers and good friends. Then, influenced by the Sisters and her faith, she entered the IBVM (Loretto) Community in 1950. According to Sr. Lorraine Crawford, who entered at the same time, "Grace was a natural born leader just by her presence and her attitude toward people. She united our large group (of new, young sisters) with laughter and song."
After novitiate training, she went right to work as a founding staff member of Our Lady of Loretto, an elementary school in Detroit. She was then missioned to St. Bride's on the South Side, and then on to St. Bernard's in Englewood. Sr. Nancy Kennelly, IBVM, was an 8th grade teacher at St. Bride's when Grace was principal. There were always difficult situations to address in and out of the classroom, but Grace would join Sr. Nancy in going for home visits to understand the students better and help the parents resolve some of the difficulties they were facing. According to Nancy, she met issues head-on with the power and practicality that comes from knowledge and compassion. "She was bound by the Spirit, and not by the law." Grace became a mentor for the young Sisters sent her way to teach both at St. Bride's and St. Bernard's. These women survived the 1960's with Grace's wisdom, humor and music, and they remain fast friends to this day.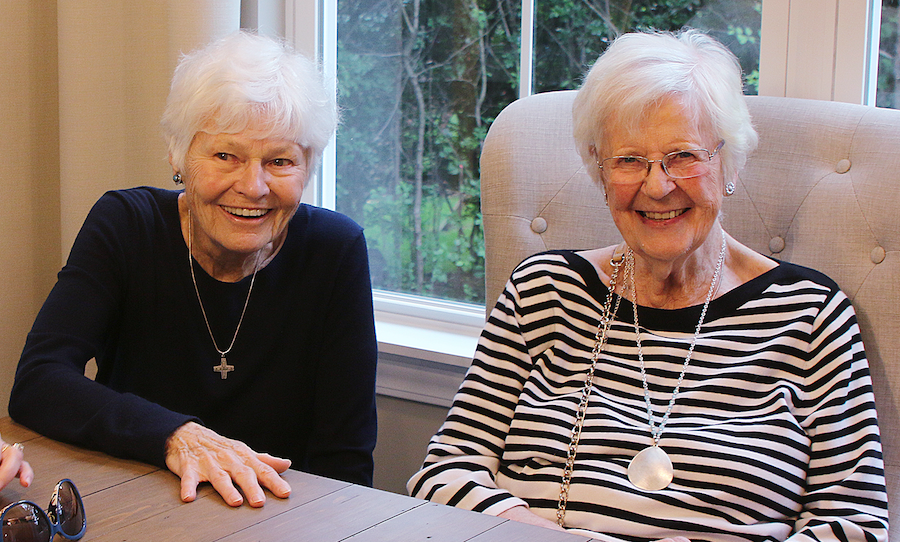 "The times, they were a'changin'." This sums up much of the 1960's in the US. Vatican II; calling all religious to go back to the spirit of their founder. The IBVM claimed the Spirit of Mary Ward with enthusiasm. "Stand with the poor…Be who you are…Go where the need is greatest…Joy , sincerity, justice, freedom – these are the signs of Mary Ward women." This change brought other changes. Many women, including Grace, left the IBVM, strong with their experiences and the gifts they had developed.
Grace was quickly hired by the Chicago Catholic School Board. Sr. Mary Brian, RSM, Superintendent, asked her to be a consultant for the elementary schools. Mary Brian wanted the Archdiocesan staff to work as a team and to partner with, rather than command, pastors and principals and teachers. "Grace," she said, "brought a new vitality to teamwork, creating a sense of 'We' among those she served."
Betty Smith, RSM was a high school consultant at the same time as Grace. "Both of us worked in the Planning Department with a team of others who guided schools through a process that was designed to assist schools to anticipate and plan for changes facing the schools. Grace was at her best when it came to helping school boards face the many challenges that they were experiencing. Grace's prior years as principal at St Bernard's gave her the experience so that board members felt they could trust her and voice their uncertainties and then work together to decide how they might come to alternative solutions to help put their school on to a better future."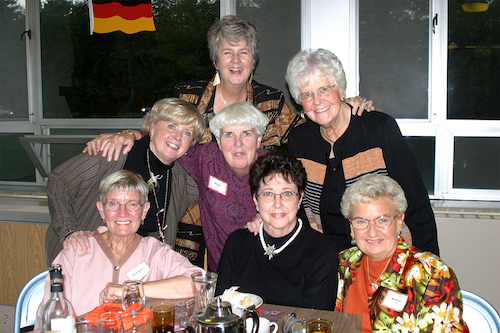 Betty continued, "I've heard it said of Grace, 'She never met a stranger' and that seems so true. She is so warm and caring and quick to ask, 'Is there anything I can do for you?' And the truth is, she really means it!" Once she's your friend, she's your friend for life. "I think of her abiding friendship with those of us who worked with her at the School Office and, especially, her love for the Loretto Sisters and her life-long friendship to so many, as well as her willingness to support the community in so many of their endeavors."
Grace Creighton – sister, donor, leader, guide, organizer, singer (the best alto ever, according to Sr. Lorraine) and friend. We thank you. As Sr. Mary Brian said well, "Grace is a good name for her." Grace's singing, humor, knowledge and care for her family, the IBVM and all she served stand out to all she meets. Her values which guide her – freedom, justice, integrity and joy – profoundly reflect the spirit of Mary Ward.
by: Sr. Mary Carton, IBVM
More on Grace from Kay Foley, IBVM
Early on in my life as a member of the Institute, I met "the" Grace Creighton, but her name at that time was Mother Thaddeus. As principal of St. Bride School, she was mentoring many young sisters in their ministry as "teacher" and in their lives as IBVM Sisters. Her outgoing and welcoming personality invited everyone she met to join her in promoting our educational ministry at St. Bride, her love of music and her drive to see that every student at St. Bride was encouraged to learn and become a successful and contributing member of our world and society. Her energy was contagious!
In 1967, when we were all encouraged to return to our Baptismal names, Mother Thaddeus happily became Sister Grace Creighton. However, the children she taught and their parents, continue to call her Mother Thaddeus to this day.
When Sister Maria Bierer introduced the idea of the Loretto Gala, Grace pledged to assist Maria in making this new event become a delightful and fun experience for years to come. At first, she promised ten years, but was still connected to the Gala for the entire 25 years that the Gala was in existence. She worked on the pre-Gala parties and filling the tables with her family, friends, former students and colleagues. She volunteered to be on the welcoming committee, greeting the guests as they arrived. Grace also found "gifts" for the silent and live auction. Many of those gifts appeared in the Tuppence area where everyone had a chance to win a wonderful surprise.
For Grace, the Gala brought people together who were loyal supporters of the Loretto Sisters but she also worked to bring new guests, ultimately extending the "life" of the event.
Looking back over the years, we had great times enjoying our events on the grounds of Loretto Convent in Wheaton, Drury Lane and finally at Gaelic Park. Thank you, Grace. You used your energy and commitment to spread the good news about the Loretto Sisters and their ministries, to support the retired and infirm Sisters, and to make the Loretto Gala a memorable and fun summer event for all.
"She was the most influential person in my life!" Paul Sharko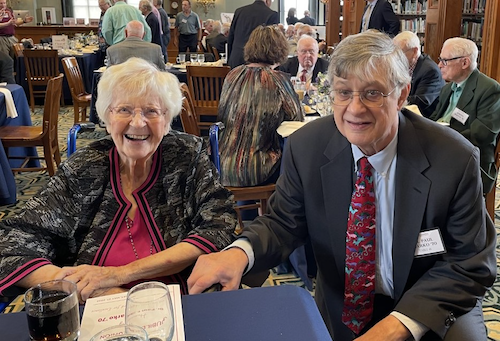 Former St. Bride's student, Paul Sharko, was honored at a special luncheon at St. Ignatius High School for his lifetime accomplishments. In preparing for his speech, Paul contacted our IBVM Development office to see whatever happened to "Mother Thaddeus," his principal when he was in 8th grade. Grace attended and reconnected with Paul at the luncheon.