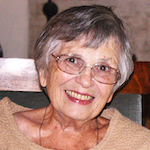 Mary Lou
Wcislo, IBVM
"To love Thee more and more."
Northlake, IL
Retired
Elementary school teacher in Chicago and in Phoenix. High School teacher and Principal At Loretto in Sault Ste. Marie , Michigan. Regional and General Leadership. Parish ministry; Employment at Misericordia, a home for challengened children and adults. During these years there were continued educational courses to be mastered.
I love reading: fiction, non fiction, history, biblical. Movies, TV, food, conversation and a glass of wine all help sociability.