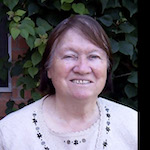 Raphael
Quinn, IBVM
"Where charity and love prevail, there is God."
Phoenix, AZ
Retired
I came to Phoenix, Arizona in 1963 to teach at SS. Simon and Jude School and I have had the privilege of serving this community first as a teacher and later as principal for 51 years. I enjoyed being involved in all aspects of parish life, and I thank God for the many years of service I have enjoyed in this wonderful school.
I enjoy any type of athletic events especially tennis. I enjoy the outdoors and cooking.