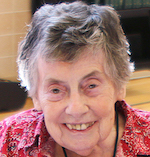 Rosemary
Lynch, IBVM
"Finding God in all things."
Naperville, IL
Retired
I taught elementary school for 8 years and high school for 5 years during which time I also taught history to our novices. I worked for the Joliet Diocese to establish an Office of Religious Education. I spent 19 years serving in 3 Chicago area parishes. During that time I also served on the General Council in Toronto. I retired and fortunately the Community was researching a new ministry in the Chicago area and I was given the opportunity to begin Mary Ward Center in South Chicago. From there I was asked to work on Development and was appointed Provincial of the newly formed United States Province. Being officially retired I am now a resident of St. Patricks.
Reading, film and crossword puzzles are my entertainment. In the past I enjoyed walking and have a special interest in activities and programs related to social justice.