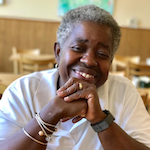 Brenda
Eagan, IBVM
"Here I am Lord."
Rome, Italy
IBVM General Council
Youth Enrichment Services Inc., Chicago, IL USA. Social Work. Pastoral Associate & Youth Ministry St. Bernard Catholic Church & school. Unity Catholic High School -merger of Loretto Academy and Mercy High schools. Community Organizing, St. Joseph Service with Daughter of Charity, San Miguel Sch. Loyola University Chicago & Loyola Stritch School of Medicine. Institute Leadership, Rome
Music, Reading, Dogs, being at the Sea, playing golf, nature, movies, ice cream!