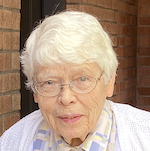 Elizabeth
Carey, IBVM
"Abide in me in time and eternity."
Phoenix, AZ
Retired
St. Anne's School, Navan 1951-1955, Elementary Education. SS. Simon & Jude, Arizona, 1955-1972. Elementary Education, Music, Orchestra & Band. Prescott, AZ 1972-1976, Elementary Education. Flagstaff, AZ 1976-2012, Parish Ministry & Director of Religious Education.
Reading. Music & Musical instruments-violin, piano & band wind instruments. Religious studies, theology. International news. Business. Poverty, homelessness, hunger.