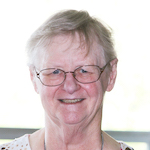 Marietta
Brummel, IBVM
"Make me an instrument of Your Love."
Northlake, IL
Retired
Teacher in elementary schools, youth ministry, adult formation and RCIA, vocation director, director of religious education for children and adults, IBVM community correspondence program for high school students, English as a second language for adult.
Meeting new people, visiting with family and friends, gardening, reading, learning about new things, singing.