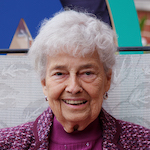 Entered Life: April 4, 1934
Entered Religious Life: September 8, 1951
Entered Eternal Life: January 1, 2023
"Thy will is my peace."
Beloved daughter of the late Joseph and Elizabeth (McTigue) Caulfield. Loving sister of the late Jeri Caulfield and Barbara Casey. Fond aunt of Patrick Casey, Diane (Steve) Campbell, Mike, Teri, Brian (Gina), Dan (Diane). Great aunt of 18.
Marguerite (Peg) was a creative and dedicated teacher at St. Cyril, St. Bride, St. Bernard, St. John Vianney, and St. John of the Cross in the Chicago area. She was teacher and principal at St. Philomene School in Sacramento. She accepted the mission of operating the Loretto Conference Center at Wheaton. Peg also became part of the Development office staff working with Loretto Alumni relations. Through all her ministries she brought her welcoming spirit. She was a longtime member of the Sisters' choir. She brought her musical talents as a piano player for many a songfest.
---
Funeral Reflection by Kay Foley, IBVM
January 9, 2023
"Today we come to celebrate the life and ministries of our beloved Sister Marguerite Caulfield. During her early years as a teacher, which lasted about 15 years, she was known to her students and their parents, as Sister Fidelis. Later, in life, she became known to all of us as Sister Peg.
Sister Peg was born to Elizabeth (an Irish immigrant) and Joseph Caulfield in 1934 and within a few years she was joined by her sisters Geri and Barbara. It's interesting to know when her parents recognized Peg as a very active, bright and precocious child, her mother marched her over to St Adrian's to meet the Principal, Mother St. Patrick. Convinced that young Peg needed to be in first grade (there was no kindergarten or preschool at that time), Mother St. Patrick admitted Peg to first grade even though she was a year younger than her classmates.
Life was fun for Peg. She gained many friends, loved school, played in the school band, and lived in a home where faith in God and family was very strong.
When she entered high school, she found herself at Loretto Academy in the Woodlawn area of Chicago. A strong reason for choosing Loretto Woodlawn was that it had a band, was very close to Mount Carmel High School (an all boy school) and she loved music. Another reason was her love and strong interest in the Loretto Sisters.
After high school and 12 years of Loretto education, Peg entered the Institute of the Blessed Virgin Mary in Wheaton, IL. On September 7, 1951 her family drove her out to Wheaton and was received as a postulant the next day. It was then that Marguerite became Sister Fidelis, translated as "Sister Faithful." Throughout her life, she remained faithful and enjoyed her name.
In November 1967, after Vatican II, a change took place. We were encouraged to return to our baptismal names and that she did. However, she continued to grow in faithfulness to God, her family and friends, her ministries and to herself.
Sister Peg submitted her funeral plans in 2001. Here we are 22 years later, experiencing these plans, and getting a look at Sr. Peg's spiritual life. She selected the readings for today and the music. She did a great job! Her choices are lively: Our entrance song invites us with these words: "We come to your feast, we come to your feast, the young and the old, the frightened the bold, the greatest and the least." (all are welcome at Peg's table.) Our closing song calls us to action: "Let us Build the City of God. May our tears be turned into dancing, for the Lord our light and our love, has turned the night into day." I detect an abundance of joy, welcoming, energy and action.
Our IBVM Constitutions tell us that, "Mission is at the heart of who we are and love is the driving force that urges us on." Peg lived those words in her teaching (she loved teaching math), her years as Principal/Administrator, Director of the Loretto Conference Center, and her work in the IBVM Office of Development.  She used her musical skills to play the piano, the tambourine, and anything else she could get her hands on.  Wakes, funerals, weddings, and community gatherings gave her many opportunities to share her gifts with others and she did.
The last four years have been very challenging for Peg. She was an early victim of COVID 19, spent a long week in the ICU unit of Elmhurst Hospital and endured several weeks of physical and occupational therapy. She was given a diagnosis of dementia and had three major housing moves in three years. Peg moved from an apartment in Lisle (independent living), to Casa San Carlo in Northlake (needed some assistance), to Artis Senior Living in Elmhurst (needed more care and also memory care) and finally to St. Patrick's Residence in Naperville (needed more physical and memory care). Each time she was moving up to the level of care needed. Being the independent woman she had grown to be, it was a really tough and rough road for her.
Sr. Peg was always longing to "go back" to where she came from. She would ask "When are you taking me back to Casa?" She gave me many reasons: We had Mass every day at Casa, I made lots of friends there, Bingo games were really fun and I won money! She took real pride in being able to answer most of the Trivia and History questions that were asked during the activities period. Her major complaint was the Food!!! Eating was not her favorite activity no matter where she was. However, she did like White Castle hamburgers! Unfortunately, COVID, played havoc with her taste buds. Her long term memory was strong but her short term memory was declining. It was tough.
After her first COVID experience, Sr. Peg moved to Artis. She was not happy about that! However, things changed. Peg made new friends, really enjoyed Bingo and its prizes, began helping those around her during activities and interacting with the staff and caregivers. Sr. Peg's favorite activity was sleeping and she loved her bed. She told me that it was the best bed she ever had.
Peg's motto chosen at the time of her Final Profession was engraved on her ring and reads: "In God's Will Is My Peace". She has worn her ring faithfully since the day she received it and has it with her now.
In closing I would like to pray a very special prayer that Peg told me was running through her mind over and over again. St. Ignatius. Founder of the Jesuits, named this prayer the Suscipe.
Take and receive, O Lord, my liberty
Take all my will, my mind, my memory.
All things I hold and all I own is thine
Thine was the gift, to thee I all resign.
Do thou direct and govern all that sways
Do what thou wilt, command and I obey
Only thy grace, thy love on me bestow
These make me rich, all else will I forgo."
Memorials may be sent to IBVM Development Department at PO Box 508, Wheaton IL 60187 or can be made online here.